Let us know you were here... Sign into our

Guestbook

or check out our

FACEBOOK

page below...
SHOW OFF YOUR BARN SPIRIT...
ORDER YOUR FANTASY FARMS CLOTHES & GIFTS!!!
see link to Fantasy Farm Store at bottom of this page.

A BIT ABOUT US (and how we came to Jupiter, Fl.):
Fantasy Farms had been in business for almost 15 years growing at various locations throughout Westchester County, New York, before we came here to Florida. It is owned by Meredith Waring, an equestrian for over 25 years.
In August 2003 we made the biggest move ever.
We packed up our horses, trainers and even a few loyal clients and moving to Jupiter Farms, Florida.
We purchased and move into an already successful riding academy known as SunChaser.
The name Fantasy Farms made the move as well, and the SunChaser name retired with it previous owner.

Fantasy Farms stresses safety first when it comes to riding and horses.
Students are instructed in Hunt Seat equitation, and are free to progress at their own level. For whatever reason the client wishes to ride (competition, exercise, pleasure), we assist them in reaching their goals.
There is never any pressure to compete or purchase a horse if that is not in the clients interest.
We are all here because of our great love for horses and the sport itself, and this is very apparent in the way we instruct our students and care for he animals.
We stress a relaxed family atmosphere...somewhere where you can enjoy horses, riding or just meet good people.
If you have an interest in learning to ride, or continuing your riding education, please feel free to contact us.
Visit the following pages in this site for more information on Horses, lessons, boarding, holiday and summer horsemanship programs for our beginner - intermediate riders, prices and scheduling.

Hope to see you all in the saddle soon!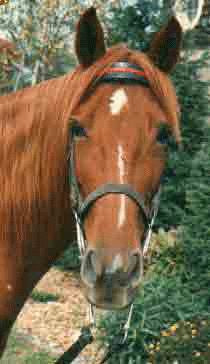 What is Fantasy Farms?
We are located in Jupiter, Florida, in an equestrian community known as Jupiter Farms. We are surrounded by beautiful trails and are in riding distance from a wonderful park that sponsers horse shows through out the year.
The barn itself sits on 10 acres. We offer a new Dressage ring, jump ring and small cross country practice area.
The barn boasts a very relaxed atmosphere that surely makes new boarders and students feel welcome and at home in no time!
For riders without their own horses, we offer lessons on our string of school horses and ponies.
We also always have horses for lease and sale. Leasing can be done on a long or short term basis.
Horses for lease range from our school horses to privately owned horses. The prices vary per horse, but are VERY reasonable.
Whereas we do not categorize ourselves as a "show barn" we do offer showing to our students if they are interested. We will attend shows at local barns and show grounds in the area. We do not require our students to show, but it is available if they choose to do so.
Our Summer / Holiday horsemanship program is a wonderful experience for all junior riders and non-riders who love horses. IT IS HARD WORK! But also lots of fun!
If you are interested in learning more about the barn, please feel free to search through our web pages.
Looking forward to meeting you!




Fantasy Farms Equestrian Center is a top horse farm boarding stable in the Jupiter, Florida Horse for Sale guide on NewHorse.com.
DON'T FORGET TO SIGN OUR GUESTBOOK...

TO VIEW THE GUESTBOOK , GO TO OUR "LESSONS" PAGE AND SCROLL TO THE BOTTOM TO FIND THE LINK.

WE WILL BE SCHEDULING THE WEEKS FOR
OUR SUMMER HORSEMANSHIP PROGRAM See our "Horsemanship Program" page for more info.

fantasy farms embroidered merchandise